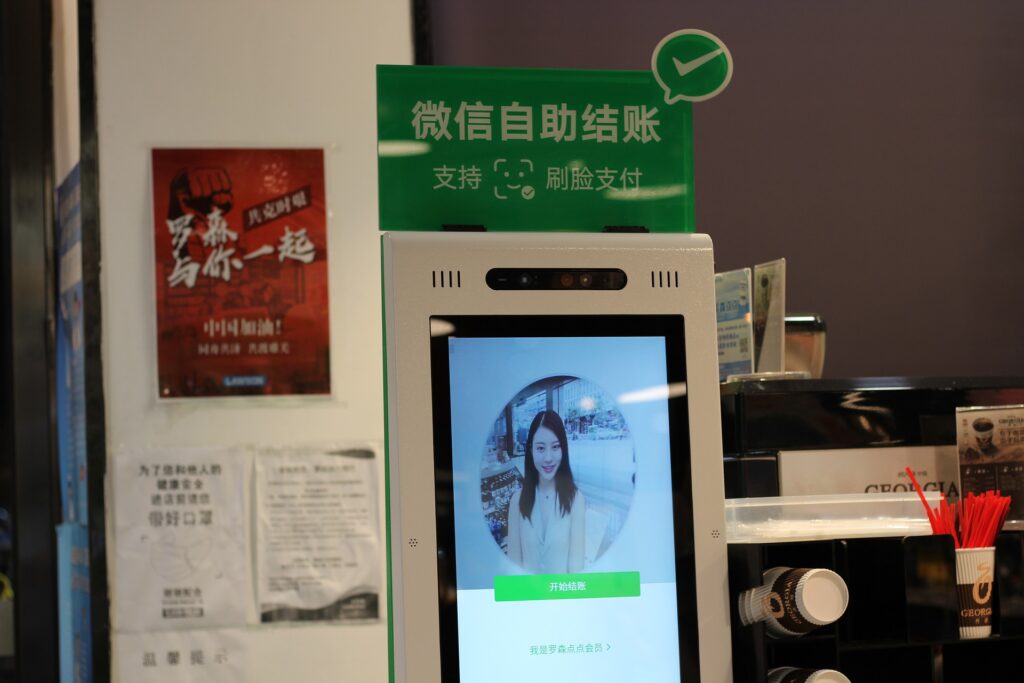 Tencent Holdings ("Tencent") is a technology conglomerate firm based in China. It offers products and services in consumer internet, online gaming, social networks, media and entertainment, fintech, and cloud. Its most well-known products are QQ, an instant messaging app for teenagers, and WeChat (Weixin in mainland China), a mobile messaging app that offers also other services such as digital payment, peer-to-peer payment, shopping, and games.
WeChat Pay is the digital payment service of WeChat. WeChat also includes mini-programs which are apps within WeChat developed for third-party businesses. WeChat Pay competes directly with AliPay of Ant Financial. WeChat Pay can be used in-store at point-of-sales with a WeChat Pay barcode or merchant QR code, on websites, on mobile apps, on WeChat official merchant accounts, or mini-programs hosted in WeChat. A WeChat Pay account is most commonly linked to payment cards and today can be linked to an international credit card such as Visa, Mastercard or American Express.
Like AliPay, WeChat Pay offers wealth management services such as savings and investment products through its platform LiCaitong and is partnering with banks, mutual fund, and wealth management bank subsidiaries or companies including Blackrock.
Figure 2. WeChat Pay on mobile phone
Reasons to invest in AI
WeChat has more than 1.1 billion users and WeChat Pay has more than 900 million users. Tencent's business is all digital and consumer-oriented. Given its size, it needs to leverage AI to support its products and services at scale. IT and cloud infrastructure management, customer support and enhanced customer engagement, payment fraud prevention and detection, digital content management and monitoring, product innovation, all require advanced AI to grow.
AI initiatives
Tencent has three labs dedicated to AI: Tencent AI Lab, Youtu Lab, and WeChat AI. Tencent AI Lab is focused on fundamental research. Youtu Lab is developing applications in image processing, pattern recognition, and deep learning. WeChat AI is focused on Speech Recognition, Natural Language Processing, Computer Vision, Data Mining, and Machine Learning for WeChat.
Tencent also invests in many AI accelerators and AI startups. It has invested in over 800 companies and 70 have gone public. It has an office in Palo Alto, CA to invest in non-Chinese startups. It has invested inTesla, Spotify, and Snap.
Tencent is also involved in agriculture, healthcare, industry, and manufacturing applications of AI.
Tencent AI Lab
Social AI
Social AI aims at developing better interactions between humans and machines. For instance, the lab has developed a smart chat application using natural language processing and understanding. The chat can be customized and used by businesses on the WeChat App or other platforms to interact with their customers.
Game AI
Game AI facilitates the interaction between the real world and the virtual world of games and continuously enhances the players' game experience. It supports the numerous online games offered by Tencent and its partners (Riot Games' League of Legends, Epic Games' Fortnite,BlueHole's PlayerUnknown's Battlegrounds). It has recently developed an AI player, named Wukong AI which learned how to play games such as Honor of Kings through reinforcement learning, the same way AlphaGo of DeepMind learned to play Go (Tencent has its own AI go player named Fine Art). Humans can play against Wukong AI and average players have difficulty beating it at higher levels.
Content AI
Content AI focuses on search, personalized recommendation, and content generation for its users. It improves the contents and recommendation of online video subscription services (drama series, anime series, variety shows, and short videos in the Weishi app), music (paid streaming music), reading subscription platforms (Weixin Reading app), and news (WeChat Moments newsfeed).
Platform AI
Platform AI provides tools to develop AI applications using OCR, machine translation, conversation bot, speech recognition, natural language processing, sentiment analysis, computer vision, human body and face recognition, image and video processing and enhancement.
Intelligent Titanium Machine Learning is a one-stop cloud-based machine learning for machine learning engineers and data scientists to perform model training, evaluation, and prediction. Tencent Yunzhi Tianshu Artificial Intelligence Service Platform is an AI Platform service to deploy AI applications in enterprises. It connects edge devices, AI algorithms, and data through data connectors.
Youtu Lab
Youtu Lab specializes in computer vision and offers different applications in policing, person search and identification, vehicle traffic control and monitoring, face verification, graphical content monitoring, and censoring.
WeChat AI
WeChat AI supports all the applications of AI on the WeChat platform. They include voice recognition, usage of image scanning QR code, machine translation, chatbots to entertain users, music/TV and voice lock security. It uses speech recognition and audio processing, natural language processing, image and video processing, data mining and text understanding, and distributed machine learning.
Challenges
The most important challenges include government regulation, reputation, and competition risks.
Tencent is exposed to a lot of regulatory and compliance risks as the consumer internet and AI are becoming more scrutinized in most countries including China. Privacy, data protection, consumer protection laws apply to Tencent in its social networks and gaming activities. Another set of laws and regulations in the financial sector such as banking laws, investor protections, financial regulations and compliance, and risk regulations apply to Tencent's activities.
The Chinese government seems to have some control over WeChat and could present some potential risk for Tencent's international activities. The US government is for instance attempting to ban WeChat for American users because it might expose them to some security risk.
Internet and gaming activities can sometimes be perceived as damaging for humans if it leads to psychological problems such as addiction especially among young customers and Tencent has to be careful at evaluating the social impact of its businesses. Furthermore, some activities in AI such as policing or surveillance can be controversial in some countries and present some reputation risk for Tencent.
Business competition is another challenge as consumers can change their behaviors and adopt new platforms, new products and services offered by other firms. If Tencent does not keep up with innovation, it might lose users and market share. In fintech, Ant Financial with AliPay is for instance a significant competitor. Tencent is very dominant in gaming but consumer taste can change quickly and large investments are required to keep up with the latest technologies such as augmented reality (AR) and virtual reality (VR).