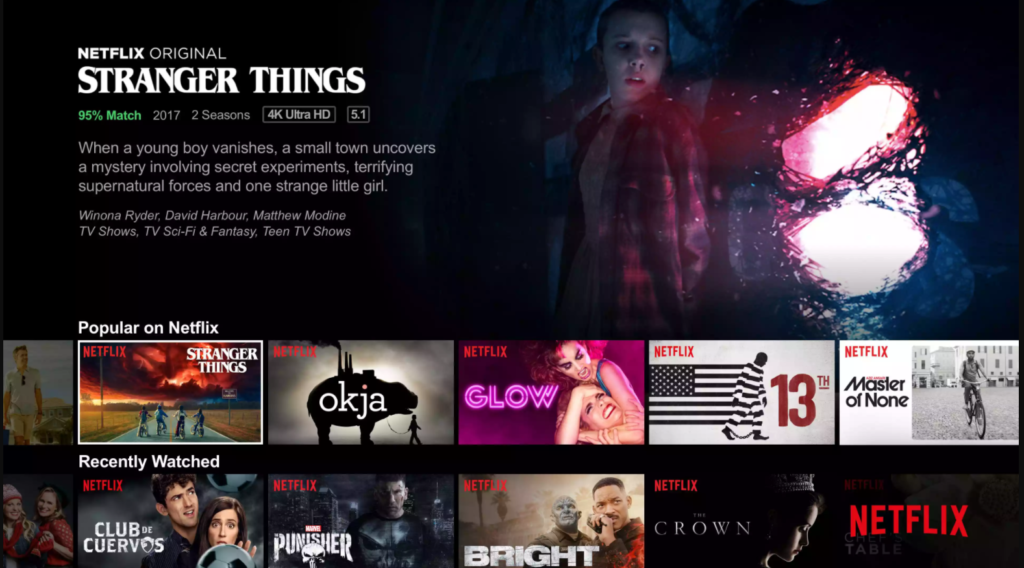 Netflix is the largest video streaming service company in the world, present in 190 countries and serving around 195 million customers. It has annual revenues of close to 20 billion dollars and a market capitalization of over 200 billion dollars. It started in 1997 with DVD rentals and sales by mail and started to video streaming in 2007. Netflix is available on many platforms including TVs, phones, and tablets. Netflix is also involved in the production of original content and in movie production with Netflix Studio.
Reasons to Invest in AI
Netflix is mostly a digital company with its infrastructure run in the cloud with AWS. It streams billions of hours of content every month in many countries and many languages, it collects a large amount of data from its users and thrives to provide them with real-time recommendations based on viewing and preferences. Its objective is to keep its users watching the most enjoyable shows on its platform. It needs AI to operate at this scale.
AI initiatives
On its excellent blog, Netflix describes how AI and machine learning are used in different areas of its business.
Personalization and Recommendations
Netflix needs to help its customers find contents to watch on its platform. A customer can watch a film she enjoys but then will be looking to find another one to watch with maybe the same theme (action, romantic comedy, science-fiction..), same director, or same cast.
Each user has a personalized page with recent views, trends, and recommendations by category, as well as original Netflix content. Everything on the page is customized to the viewer including the suggested categories, films or series, and their even visuals. The image representing the film can show a particular actor or graphic that will attract the attention of the viewer.
Netflix uses several machine learning algorithms to select the content to show on the user home age. In particular, it is using A/B testing and contextual bandits. It is running experiments in real-time of different page configurations and collects information on which configuration is getting the most clicks. It knows which film the user is ending up watching and knows if the user has watched it to the end. It is mixing predictions based on the user's characteristics, preferences, and history with more randomized suggestions to uncover more information on the user's preferences.
Content and Studio
Netflix has to constantly purchase the rights or produce new content for its platform. For TV series, it will often agree to stream the full season without a pilot. It also needs to know how much to invest in new productions. It is using predictive modelling to forecast the demand for new shows. It looks for instance at similar shows, the similarity being measured by some distance between show attributes. Because it has detailed information on shows which have been popular and have found an audience it knows with some probability which new show will be successful.
Netflix is producing its own movies with Netflix Studio. It has optimized the movie creation life-cycle from pre-production, planning, scheduling, production, post-production to marketing using data science and machine learning. For instance, scheduling is treated as an optimization with constraints problem. Given the availability of the film crew, director, actors, location it can generate an optimal schedule in a very short time. It also chooses which film to produce and how much to invest in each film given the likelihood that it will attract sufficient viewers on its platform. Netflix has borrowed 20 billion dollars to finance its original productions.
Streaming
Streaming is a technical challenge as Netflix is using over a third of the national internet bandwidth in the US. It has to monitor the quality of the streaming experience for each individual user who is at a different location, has a specific device, specific bandwidth, and specific internet provider. Even before a new content is streamed, Netflix is controlling its quality and tries to predict if some content will have quality issues.
Marketing and Sales
Marketing messages are individualized so that they are more likely to convince non-subscribers to sign up. Netflix has to choose the marketing channel such as YouTube or Facebook or others and what content to show to a potential new member. It is using causal modelling to evaluate the effectiveness of its marketing spending.
Challenges
A challenge for Netflix is to keep licensing and producing attractive content for its customer base. If tastes change, its models have to capture them and quickly recommend appropriate new content. Netflix competes for customer attention and have to compete with other activities such as VR video games or social networks. Netflix is not paying for the internet infrastructure per se but if it continues to be a significant user of the national bandwidth it might be asked to pay for it or to reduce the quality of its video streaming.